School of Medical Technology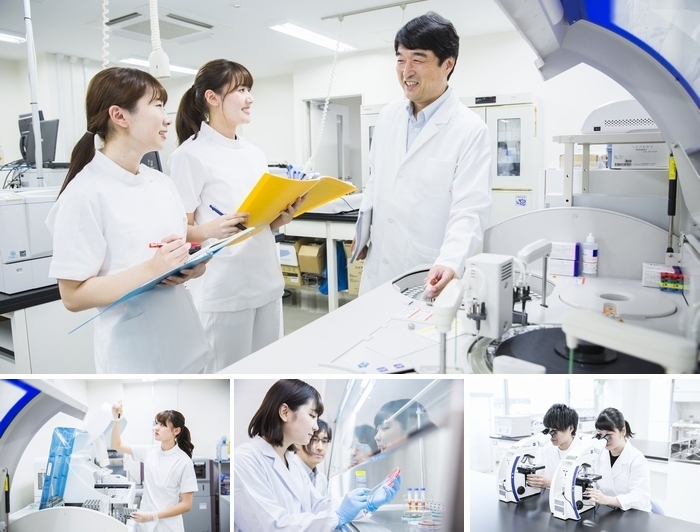 We cultivate clinical laboratory technologists of the new era in a new department of a health sciences university.
The Department of Clinical Laboratory Science at the School of Medical Technology was established in 2019 as the first private four-year university department for cultivating clinical laboratory technologists in Hokkaido and Tohoku areas of Japan. Our educational aims include formation of humanity as a medical professional and acquisition of communication skills, which are needed for Interprofessional team healthcare, regional medical services and home healthcare, as well as learning of knowledge and skills of clinical examination. Additionally, students will be cultivated into advanced specialists and researchers who will be front-runners in coming eras via graduation study on medical technology. The graduates will be qualified to take national registered clinical laboratory technologist exam plus qualifying exams related to food. Extensive education is provided on health, medicine and welfare, aiming to nurture clinical laboratory technologists capable of playing active parts in diverse fields.
School information
Clinical Laboratory Science
A systematic four-year education is provided via offering graduated series of basic and practical courses on clinical examination starting from the first year, leading to the overall summary of challenging the Objective Structured Clinical Examination (OSCE) in the third year. Afterwards, the students receive clinical training at a medical institute in various regions of Hokkaido and prepare for the national exam. In this way, systematic education will be provided throughout the four years.
Major subjects
Anatomy
Physiology
Clinical chemistry
Medical engineering
Clinical pathophysiology
Clinical hematology
Laboratory Immunology
Microbiology
Medical Imaging
Graduate School of Medical Technology Sciences
In the field of clinical laboratory science, there is a strong demand for professionals who can accurately identify new challenges, acquire the latest knowledge and technology in areas such as preventive medicine, AI, and infection control, and effectively apply their acquired knowledge and skills in clinical settings.
Given this, in order to advance the field of clinical laboratory science by developing highly specialized professionals in this field, and with a view to contributing to the development of local communities and promoting the well-being of individuals, we established the Master's Program in in the Graduate School of Medical Technology Sciences in April 2023. In this program, we have developed a curriculum to further develop the foundational skills acquired during undergraduate education in specialized areas of clinical laboratory science. Additionally, we are fostering the groundwork for researching new clinical laboratory techniques and methods through collaboration with the university's existing faculties, departments, and related academic fields, all while considering the needs of society and the challenges in the field of healthcare.
【Research Field】
Studies in Clinical Laboratory Science
Physiological analysis
Pathological informatics
Hematology
Immunology and Cell Biology
Infection biology
Department of Genetic Testing
Molecular and Cellular Pathology
H

ealth


S

ciences


U

niversity of


H

okkaido